About Us
International fuel injection exports are the leading Manufacturer and exporters of Diesel Fuel Injection Pump Parts and Spares since 1964. Catering to the requirements of Diesel Fuel Injection Pump Parts from Mono/Twin Cylindered Agricultural and Industrial Engines like Petter/Kirloskar, Lister, Andoria, Russian, Armstrong, Deutz, Hatz, Yanmar, Lombordini Engines upto 4/6/8/ and 12 cylindered Mercedes, Deutz, Scania, Renault, Peugeot, Volvo, Massey Ferguson, Ford and other engines Elements, Nozzles, D.Valves, FeedPumps, Governors.
The product range covers Elements/Plungers, Nozzles, Delivery Valves, Feed Pumps Spares, Governors Spares, Hand Primers, Nozzle Testers, Nozzle Automizers/Injectors, Diaphragms, Overflow Valves, Test Benches, Single Cylinder Pumps, Washers Shims, Supply Pumps, Gaskets, Oil Seals, Overhaul Kits, Diesel Filter Assembly, Glow Plugs etc.
Delivery Valves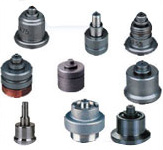 Our Objective is to provide top of the line products at competitive pricing through innovation. We equip ourselves with the latest grade of machinery a dependable workforce to deliver consistently perfect diesel fuel injection products.
Single cylinder Pump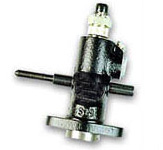 The web of our customers spans 18 countries worldwide from Middle East to Africa to South America to Europe uptil South East Asia.
Quality
The Proof of our quality is that several well known Diesel Fuel Injection manufacturers in Europe regularly source certain finished some semi finished items from us. We conduct 100% functionality Tests to ensure proper fitment,working,low fuel consumption,reduced gas emmission a long service life period for our products. For instance Nozzles are tested for correct Spray Pattern angle displacement, pressure holding capacity, back leakage, oil drippings. Likewise for other products great emphasis is on testings to check seals,pressure and capacity.